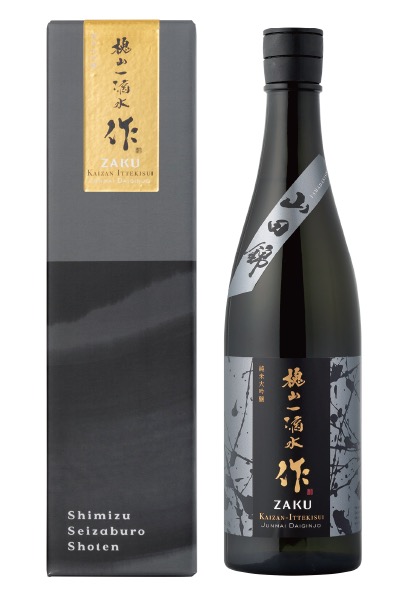 Zaku Kaizan Ittekisui
Junmai Daiginjo
The name of our premium series sake comes from the Buddhist teaching that even in just a single drop of water, the immense life-giving value of water remains unchanged. The rice is polished away so that only 40% of the grain remains and is then brewed slowly at a low temperature. This junmai daiginjo sake's name contains the character for the long-revered Japanese pagoda tree (槐), alluding to the noble and elegant taste and finish this sake possesses.
Beautiful nose of pear and white flowers. Lychee, mint, green apple. Bright palate and candied pineapple. Ripe, red apple. Silky textures, elegant and balanced acidity. Pure and clean.
Award:
the Trophy winner of International Wine Challenge 2018, Kura Master 2018 & 2019 Platinum Award Winner, National Sake Competition 2019 Gold Award Winner
Produced by Shimizu Seizaburo Shoten
Shimizu Seizaburo Shoten was established by Seizaburo Shimizu in 1869.
The pellucid water originating from the Suzuka Mountains and supply of good rice from the Ise Plain made this place as a right place for sake brewing.
Zaku has been served at G-7 Summit 2016 banquet. Created by local rice and local water, Zaku series is has its own focus on high aroma and clean finish.